Abby & Rachael's Wedding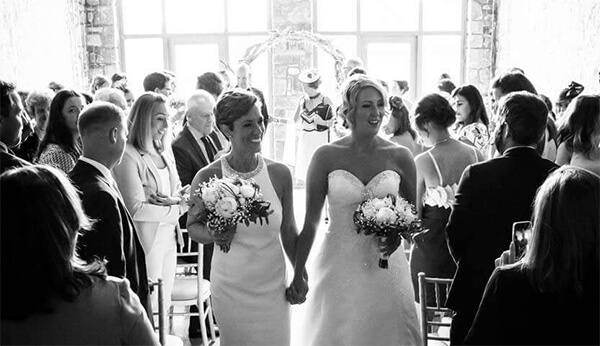 As I drove into Rosedew Farm for Abby and Rachael's wedding in May I knew it was going to be a fun filled morning. With two brides, five bridesmaids and two mother of the brides it was never going to be dull. Lauren and I arrived at 7am primed to create the perfect hair and makeup for the brides and their bridal party. We were immediately struck by a heightened sense of excitement as champagne and laughter flowed in equal measure and a buzz emanated from each of the cottages where Abby and Rachael were preparing for their special day ahead.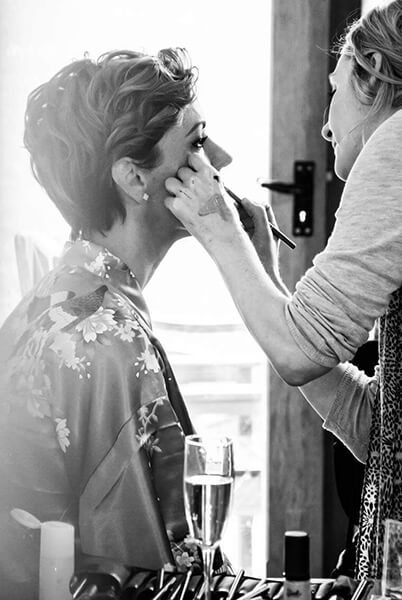 Abby and Rachael had met eight and a half years earlier when they both worked at Whitchurch High School. Although their paths hadn't crossed before, two weeks prior to Rachael leaving to join the police they were asked to help with a piece of work, stuffing envelopes. They instantly hit it off, laughing over the task, and have been inseparable ever since.
Their wedding was a true reflection of their personalities – relaxed, fun and stylish. Both Abby and Rachael have completely different styles and this was reflected in the looks they went for on the day. Abby wore a long sleek custom made dress by Amy Mair Couture fit for a movie star. To set this off we curled her short, purple hair and accentuated her beautiful eyes with strong eye makeup and luscious lashes. We added a cherry lip colour to really pull the look together. Rachael opted for a traditional strapless gown, with a sweetheart neckline. We styled Rachael's hair with soft curls and the look was made complete with natural makeup to make the most of Reachel's flawless skin. Both the girls kept their looks as a surprise to one another, and as with everything else, these came together perfectly.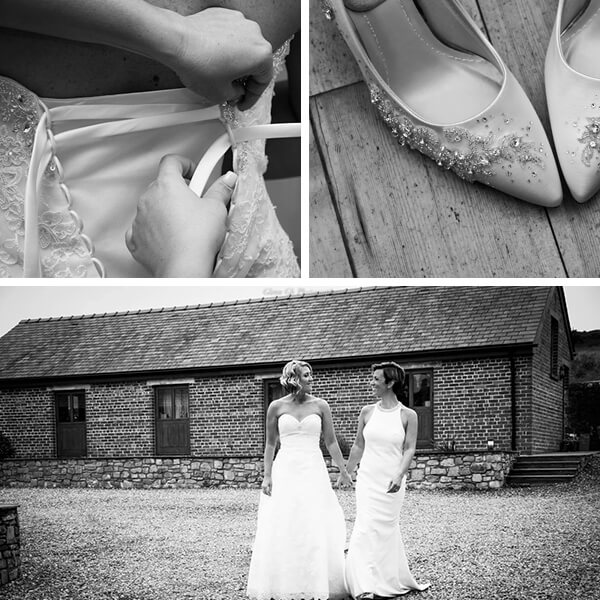 All of Abby and Rachael's nearest and dearest were there to see them say their vows. There were so many incredible moments as the day progressed from the flowers, food, music and dancing. Everyone went the extra mile for the wedding with the caterer even hand carving a heart on their dessert serving board.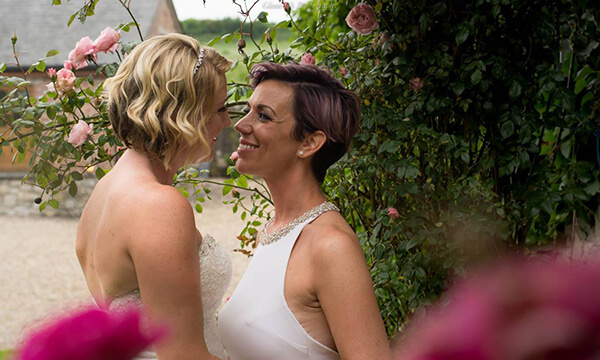 Abby and Rachael stole some time together during the meal, having a romantic sweetheart table instead of a top table, purposefully chosen so they could sit back, reflect on the day and watch their friends and family laughing and enjoying the food and drinks.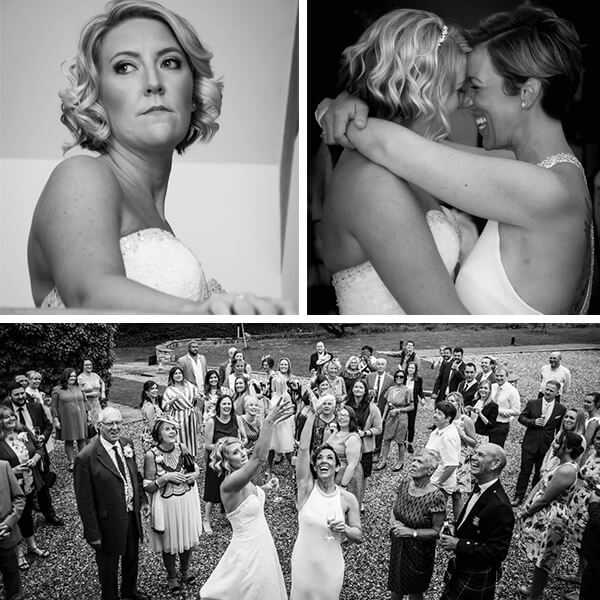 After the meal the newly weds danced the night away, downing tequila and catching up with everyone. The first dance was 'I Wanna Get Lost with You' which sums the pair up as they are always lost in each others conversation. A wedding fit for movie stars in one of the most romantic locations in Wales.
Suppliers:
Photography - Glenn Gb Photography
Rachael's wedding dress - Cardiff Bridal Centre
Abby's wedding dress - custom- by made Amy Mair Couture
Flowers - Zoe O'Shea florist
Rings – custom Abby and Rachael by the Diamond Centre of Wales
Abby's shoes - Betsy Blue