Hannah and Oli – A Fairytale Wedding in Wales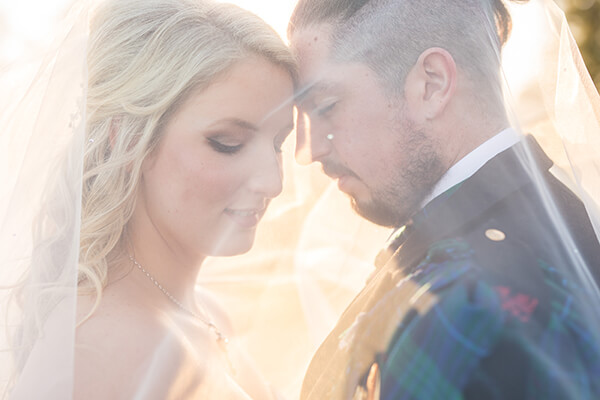 I drove up to the Vale Hotel early on a dark November morning before the sun had decided to rise. Greeting Hannah in her suite she was up and ready for the big day ahead. Hannah's excitement was wonderful to see, and she proudly showed me her magnificent Ian Stewart dress. The petite bodice, full skirt and beautiful flowing gown conjured up memories of a fairy tale princess wedding and with Hensol Castle as the venue the wonderful picture was complete.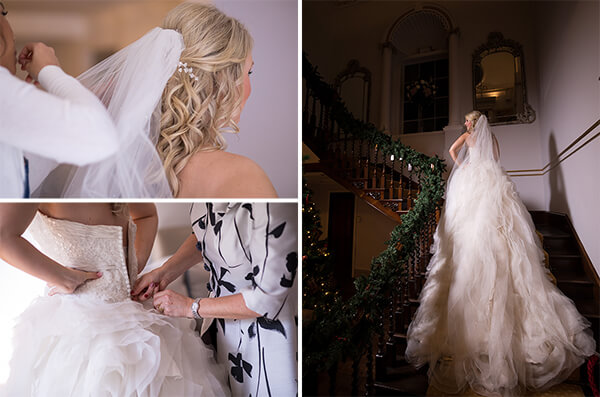 Oli and Hannah's story sprung from romantic beginnings. Even before Hannah was born Oli's mother was a part of her life acting as midwife to Hannah's mum. The parents soon became life-long friends and although Hannah and Oli didn't really know one another well, they saw each other often at the local pub where Oli worked. The polite chatter between Oli and Hannah soon turned into romance when Oli's secret crush turned out to be none other than Hannah. Eventually Hannah's sister-in-law became cupid and arranged their first date to the cinema and seven years later they find themselves preparing for their very own wedding.
As the sun broke on the cold November morning outside it beamed through the floor to ceiling windows and filled the room with a sense of optimism for the day ahead. Surrounded by her bridesmaids, mother, mother in law and flower girls the atmosphere was one of excitement and occasion. Yet Hannah's laidback demeanour meant she took much of it in her stride and everyone was having a great time sipping champagne and chatting as the makeup team buzzed around ready to beautify the ladies.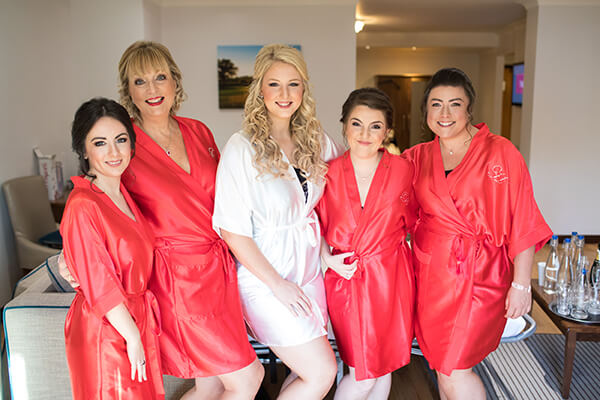 Hannah had a clear vision for her wedding day which helped us to find a glamourous and elegant style to enhance her choices. We went for soft smoky eyes with a hint of shimmer and strong winged eye liner accentuated the final look. This was blended together with a subtle rose glow about her cheeks and soft warm lips.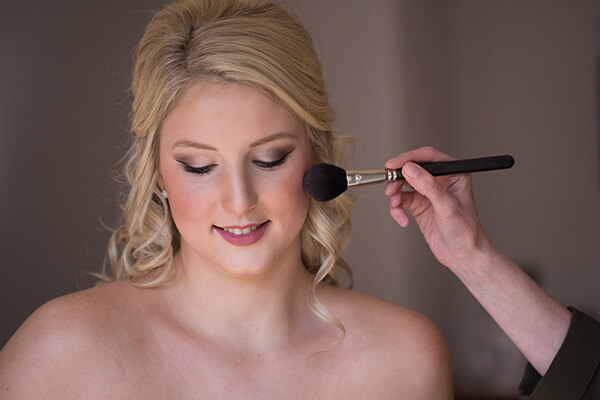 Hannah slipped into the Ian Stewart dress with its strapless top and the full bodied, flowing skirt which tumbled behind her. It was one of the most beautifully complete looks we've seen and Hannah looked simply stunning. The final touch was a long veil which set off the look perfectly.
Oli and the groomsman wore Welsh tartan, a theme which carried through to the flower girl's bows on their dresses. The fine detail of Oli's kilt melded with the classic backdrop of Hensol Castle and carried with it an air of traditional style.
The whole day reflected memories of their lives together, from the Welsh tartan kilts, to the fun, relaxed feel of families and friends coming together on their special day. The first dance was ushered in by the song 'Home Sweet Home' by Motley Crüe because it brought back warm and happy memories of a holiday in Vegas.
From a fairy tale wedding comes a fairy tale honeymoon as Hannah and Oli look forward to revisiting Japan where Oli proposed a few years earlier.
A Fairytale Castle Wedding in the Heart of Wales.
Makeup: NGJ Makeup and Hair
Photography: Justin Harris Photography
Flowers: Rosebowl florists
Dress: Ian Stewart, Alison Jayne, Swansea
Rings: Clogau Gold and Spencer Morgan, Swansea
Cake: Dawn Parry, Bling me a Cake